Spice Trade Program
Aramarine Program for the Spice Trade
LOOKING FOR INSURANCE FOR THE SPICE TRADE? LOOK NO FURTHER!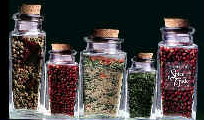 Aramarine Brokerage, Inc., originally in conjunction with the American Spice Trade Association, is proud to advise the creation of a Risk Purchasing Group for the spice trade. Choosing an insurance program is like adding spices to your favorite recipe. You need the right blend and the right amount to achieve the flavor you desire. Aramarine Brokerage knows your business and your taste, so in conjunction with an A. M. Best Rated carrier, we have developed an insurance program specifically for the spice trade. Our tailor made coverage's for the spice trade can help you enhance your existing insurance program and give you additional protection for your business.


Do your current policies provide the highest level of coverage, including:
Product Recall
Food Borne Illness
Governmental Rejection of Product
Loss of Income
If not, contact Aramarine Brokerage Today!!
For More Information: Call Us at 908-608-0200 or Email us at submissions@aramarine.com